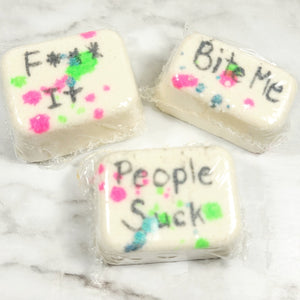 Cube Fizzies
Treat yourself and have a spa day with our Foaming Fizzies. These fizzies are full of nourishing oils to soften and soak away your trouble, if only for a moment.
This is a fizzy intended for one time use. Each one is hand painted.

Fill a bowl or small tub up with warm water (leave a bit of room for the foam), add fizzy and soak hands or feet for 5-10 min. * Caution you might be slightly slippery due to oils.
Current scent
Marshmallow Candy Cane - Delicious notes of candied peppermint blends with whipped marshmallow, vanilla bean and sugar crystals.

Ingredients - Baking Soda, Citric Acid, Kaolin Clay, Buttermilk, Vitamin E, Grape seed Oil, Almond Oil, Jojoba Oil, Almond Oil, Sunflower Oil, Polysorbate 80, Mica and/or Fragrance.